Great news! Freelancers ID cardholders can now enjoy special discounts while staying at the popular Seagull Hotel based in Cox's Bazar.
You must have an approved and valid Freelancers ID card to claim this offer. Call the hotel beforehand to make a reservation for your stay. You maybe asked for a printed copy of your Freelancer ID when during check-in.
Here are the room rates under this offer: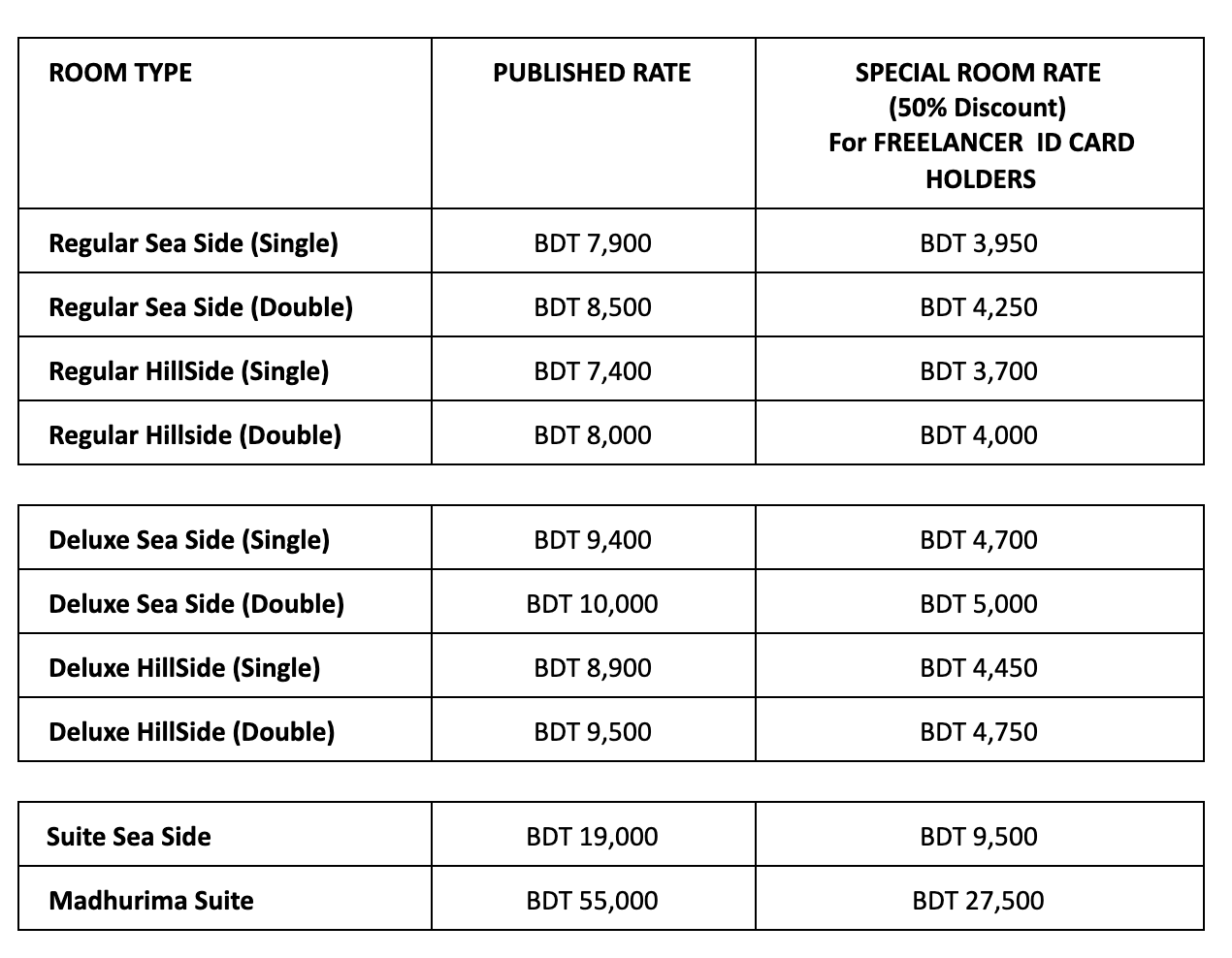 Child policy:
Children up to 5 Years stay free of charge when using existing beds.

Extra bed policy:
Extra bed charge is 1000 BDT per person per night.
The above rates are inclusive of the following:
▪ Welcome drinks.
▪ Buffet Breakfast (From the Next Day of Arrival).
General Terms & Conditions:
▪The above quoted rates are Inclusive of 10% Service Charge & 15% VAT. If for any reason the
Government duty structure changes and or the Government impose additional supplementary
duties/taxes on hotel services, then the new structure will be applicable with the quoted rates.
▪All the rates quoted above are Non-Commissionable (OTA & TA) even when the reservation is made
by the nominated Travel Agent of the Preferred Corporate Client.
▪Our standard Check-in time is 1400 Hours & standard Check-out time is 1200 Hours.
▪For guests arriving prior to 1400 Hours, the hotel will make all the endeavors to provide the room.
However, in order to have guaranteed room availability for Check-in prior to 1400 Hours, the room
must be pre-booked from the previous night.
▪For late Check-out till 1800 Hours will incur a Half Day charge (subject to room's availability). After
1800 Hours it will be charged as full day.
▪The Preferred Corporate Client will make an advance reservation with the hotel and the hotel will
confirm the reservation subject to availability. If for any reason, the requested room category is not
www.seagullhotelbd.com
available, the hotel will offer alternative category of rooms/suites and the rate will be applicable for
that respective category of rooms/suites.
▪The hotel will send reservation confirmation to the client upon receipt of reservation request in
writing. However, bed type preferences cannot be confirmed during reservation confirmation. During
the time of Check-in, the hotel will make all the endeavors to allocate rooms as per preference but
this will be again Subject to Availability.
▪All communication regarding reservation, cancellation, change & billing to be made in writing (Either
by letter, facsimile or email).
▪Hotel's rules and regulations will apply and might change without any prior notice.
▪This offer is valid from January 01, 2022 till December 31, 2022.
Cancellation & No-show Policy:
▪ Any Cancellation must be done 48 Hours prior to Check-in Date. Cancellation later than this lead period will incur a charge of One Room Night per room booked.
▪ In case of any No-show, one night's room charge will be applicable.
Late Check-out Policy:
▪ One night's additional room charge will be applicable for Late Check-out/Departure.
Payment Policy:
▪ Full payment must be done upon reservation.
▪ In case of large group booking, payment policy could be adjusted upon mutual understanding by both parties.
The discounted rates are not applicable for:
▪ First & last 10 days of every year. (Including 31St December)
▪ For 10 (Ten) days during Eid festivals (i.e., 03 (three) days before Eid & 07 (seven) days from Eid Day).
▪ Long Government Holidays.