Sajid Islam is a student of Khulna University of Engineering Technology. He was starting his leather engineering course there. It was his dream to be a freelancer from the very beginning. Now he is one of the top instagram market influencers in the world and CEO at his company.
Sajid's Start of the Journey
Sajid couldn't understand how to start. Finishing some startup projects he came to know about freelancing digital markets and started to research more on it. He found that among all the areas of digital marketing, he enjoys working with social media the most. He started to utilise the social media projects along with his starter projects. He had learnt about popular marketplaces on the internet and found upwork.com as the most popular one. His account was verified within a few days. But the most challenging part was that he was a student and residing in his campus. So it was hard for him to continue freelancing while he was a student. When he was struggling with pressure from campus and his family, he found he is considered one of the top Instagram experts on Google. Then Sajid realised where he needed to focus. If he wants to continue possessing his position on Google top rank he needs to work more and therefore, he needs to spend more time. 
Big Blow in Career
After the mind blowing start Sajid started to research more about Instagram. He learnt about Instagram algorithms and how to harvest the highest outcome and Instagram market growth. When he applied this knowledge into his client's projects, they started to prefer him more and hired him for more projects. He started working with Hollywood actresses. Once a renowned Hollywood actress mentioned his name in a film-fest and Sajid got more attention. That is how he got more projects from Hollywood actors and their teams. 
When he got too much attention and reference from various parties he thought of forming a team. To manage his clients and his rising demand he needed a team. Then with few people he established his company 'Gram Organic' in Los Angeles, USA. He started to serve his local clients from Los Angeles. He needed to recruit more and more people in his agency. Not just he recruited new manpower he had made them more skilled and expert in the marketplace. Sajid then focused more on his company rather than just focused on the marketplace. Sajid says, 'More and more freelancers are now joining my company. I am giving training to them and making them skilled.'
What Sajid Does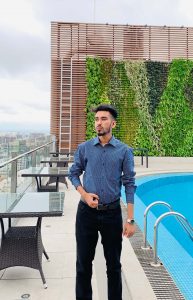 Instagram is one of the biggest trending social media on the internet. On Instagram, influencers can influence people to increase someone's followers or to highlight someone's portfolio or to develop business products. Sajid says, 'I highlight my clients' requirements whatever they need to highlight on social media. Using different features of Instagram and it's algorithm it is possible to influence a lot of people in the way you want. 
How Sajid Keeps Himself Updated
Freelancing market is too dynamic. In this ever-changing competitive market a freelancer always needs to keep himself updated or he won't be able to serve client requirements. Sajid says, 'You cannot just rely on a single skill to make your position in the market. While working as a freelancer you always have to keep up a separate time in your routine to learn about new updates and learning new skills. There is no shortcut. You have to work hard if you want to make progress. Yes, there are a few who are prosperous on the digital market in just a few days but they never sustain. With limited skills and little hardship you cannot stand as a freelancer for too long. And there are some people who do not have success in market places. For them I would recommend them to learn and gather more and more knowledge on marketing strategies. With that knowledge, he can open up his own portfolio site and grow its marketing'.
How to Keep Clients Happy
Clients are the one who searches you and pays you. Your success and career fully depends on your clients. Says sajid. When you keep your clients happy they provides you more projects and refers you to others. This is how how you demand grows. So deal with your clients with highest priority. Always be communicative and polite. And give your best at your work. In freelancing you cannot meet your client. Your client will judge you only through your work. 
Advices for Newbies
Sajid Islam advices, 'To be honest, Instagram influence is not that difficult. Nor do you need a lot of paid courses to learn this. If someone wants to learn Instagram influence I would like to recommend him to work with a demo business or business startup at the beginning. With that he can detect when his business is growing and when it is not. By that he can access his business program along with assessing himself. When someone has the potential to develop his own business, they can definitely develop and grow his client's business. And internet research is too important. You always need to keep yourself updated and learn more and more tools, features and about software updates.
Goals and Dreams of Sajid
At the present time Sajid is researching particularly on the agricultural sector of Bangladesh. His eyes, we never can forget our roots. Nowadays youth consider agricultural work as shame. This is too unfortunate. For this, I want to merge agriculture and information technology together. If agriculture gets digitised, we can increase our national production and contribute to developing people's lives. Millions of people will be helped if agriculture merges with the IT sector.
Sajid Islam Pranto is one of those who think outside the box. Studying engineering at a renowned institution of the country he still thought to do something other than traditional job. Being a successful ideal he now wishes to serve the nation.