Nipu Nanda Biswas is a successful dreamer and freelancer. He has been successful throughout his career and now he wants to spread the light among those who are Disadvantaged in villages and suburbs. He dreams to build up an information technology School at his birthplace. Today we are talking to Nipu who has been working as a freelancer for several years continuously.
Nipu's Start of the Journey
During 2009 Nipu didn't know anything about computers. That time his family owned a photocopy service shop at the local market. There Nipu primarily gathered some knowledge on computers. During 2011 he came to know that the internet can be a source of income. He had to learn about Marketplaces like odesk, Elance freelancer on his own. 
Finally on 4th September 2013, Nipu created an account on Odesk. It was the start and within a year he started making a handsome amount of money online.
Nipu's Works as a Freelancer
Since Nipu was a village resident he had not had many opportunities to learn different skills. That time he learnt about Microsoft office programs. He had a very good speed of typing Bangla and English. So typing, data entry, light research was his initial work area. When 3G network was available in his village he started full research. He used to receive deep research projects too. Nowadays he works for admin support and lead generation.
Why Freelancing is Your Choice
Nipu's family income was not bad but there was no growth. After his father's retirement Nipu tried to seek opportunities in the local job market and abroad. But there were not many opportunities available. So, Nipu decided to be a freelancer. Being a freelancer Nipu can work freely, work from home and be self dependent. 
How was his Journey?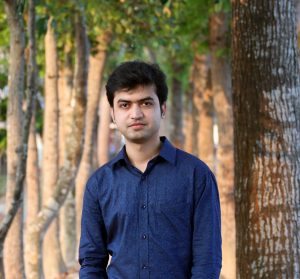 Those days the Internet service was very poor. It took almost 5 to 10 minutes to open a single website. He had no personal computer that time. So he had to use his family's business computer and during the business hour he could not use the computer. After closing, Nipu carried the computer to home. He had no table at home so he placed the monitor, mouse, keyboard and other  parts on the floor. Family members found it funny and some of them used to laugh at him.
Nipu's Inspirations
Nipu says, 'it was my father. He was always with me. He never discouraged me and knew about ICT,  freelancing and digital markets. And even when they broadcasted a TV show on freelancing my father always called me to watch that.'
Marketplaces Nipu Works in
'In present days I work in Upwork and worked in Odesk at the beginning', says Nipu.
What made Nipu Interested in Freelancing
Nipu says, 'freelancing is something that isn't a traditional job. Traditional jobs have limited opportunities, where freelancing has no limits of opportunities. On the other hand it doesn't require investments like business. In freelancing you just need to be skilled. These pragmatic and practical approaches of freelancing attracted me to be a freelancer'.
How Nipu keeps up Developing his Skills
With the time rotation and changing marketplace, freelancers need to develop their skills soundly. Nipu says, 'as a regular freelancer I am always too busy with my work. With this business I don't get much time to develop my skills. But working on projects there are a lot of opportunities to learn. As an example when I work for lead generation, I need to to retouch photos. Sometimes I need to learn coding during site scraping. With all this I have to develop learning WordPress for basic web designing. So, it is a continuous learning process.'
Worst Part About Being a Freelancer
Nipu says, 'I used to think that freelancing is a freedom to work. But for a freelancer who is responsible to his family and career, this generalization doesn't fit. Freelancing can be a cage for some people. In job sectors it is just 8 hours of duty, but freelancing can even put you in a 24 hour duty. Commitments and lack of time are too much pressuring'.
The best part About being a Freelancer
Expressing the advantages and best parts about freelancing Nipu says, 'In traditional jobs the bonus money is limited for national occasions. But here in freelancing earning a bonus depends on performance. And the best part about freelancing is one can earn as much as an American or European citizen while residing in Bangladesh. In South Asian countries job sectors are not skill based but educational qualification and reference based. Where freelancing is fully based on work efficiency and skills.'
Nipu's Suggestions to keep our Clients Happy
Nipu stresses on keeping clients happy to maintain a good image in the marketplace and to get projects continuously. He says, 'It doesn't matter how honest you are, if your way of communications are not behaved enough; that will depict a bad image towards your client. In every aspect of your career you need to be flexible and adaptive in communication. Secondly you have to give your best output in your project. Clients in the marketplaces won't compromise in quality ever.'
Simple Tips for Newbies
Basically everyone joins freelancing to earn money in a short time. Nipu says, '90% of the newcomers join the marketplace seeing others' income rate and success. They see others' achievements but what they don't see is the struggle behind the success. You have to be fully skilled in your work area before appearing in the marketplaces. When you are an international freelancer you are representing your country in the international sphere. So be careful representing yourself and your country.'
The decentralization process is not yet successful in Bangladesh. The big opportunities are available just in big cities. So Nipu Nanda wants to establish an information technology School which will be different from any other IT learning centre. More than that it will be just like a school giving importance to ICT the most. Examination dependent educational curriculum does not help students to use their knowledge in practical life. Nipu wants to change the picture and serve his motherland.