Md. Mustafizur Rahman is a renowned Bangladeshi freelancer dealing in search engine marketing. He works in various marketplaces and deals directly to American companies internationally. We got an opportunity to contact him in person. He shared his story and valuable advice with us.
How Mustafizur Started and When
It was 2011 when Mustafizur started to learn and explore things about freelancing. During that time, he was studying at University in second semester. He knew that if he didn't want to suffer in life, he had to start something besides his studies. Mustafizur says, 'One of my senior acquaintances was an expert on excel. With him I started to work with Excel. After some time, I thought of working independently without depending on him. I searched about working on Google and found some freelancing marketplaces. It was 15th June of 2013 when I started working as a freelancer professionally'.
What Mustafizur does Actually
Mustafizur Rahman works with search engine marketing. It is related to paid advertisements. He now works in Google ads, Bing ads, Facebook ads along with any kind of marketing related projects on the internet. It can be social media or search engines. 
Why Freelancing
Mustafizur Rahman was born and raised in Kushtia. When he first arrived at Dhaka, he realised that it is not enough to just rely on family to continue his studies. When he found a freelance project from his acquaintance, he found it handy. It gave him the opportunity to optimise and manage his study times and working hours as he wanted. Mustafizur says, 'During 2015 I got a chance to work with one of the biggest real estate companies in Europe. It was a full-time working agreement. Without freelancing I won't be able to work like this internationally. That is why I will always prefer freelancing'. 
How Hard was the Journey?
Everything has a harsh start. Mustafizur's journey was no other than that. He says, 'During my early days, it was hard to find resources, learning materials and access to the freelancing world. Nowadays, YouTube, Google, blog sites and social media have become knowledge sharing hubs. You can find a lot of Facebook groups and guides to show you how you can upgrade your skills and progress in marketplaces. But in those early days we didn't have resources to learn and we didn't know what to do and where to do. But now things have changed in my career. Things are way smoother and easier for now'.
Mustafizur's Inspirations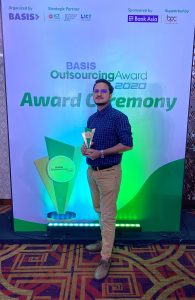 Behind every success there is someone who inspires one to achieve it. In Mustafizur Rahman's career there is someone who inspired him too. Mustafizur says, 'His name was Deepak Gupta. He was from India. We used to contact each other on e-mail. He advised me to work in odesk and told me that there are much more works available at that marketplace. With his advice and good wishes, I started and whenever faced any kind of problems, it was him who used to solve all my problems. I am really grateful to him.' Mustafizur invited Deepak to visit him several times. He hopes one day he will be able to meet his inspiration Deepak Gupta in soon. 
Which Marketplace Mustafizur Works in
Mustafizur started working at odesk.com. Later it merged as upwork.com. by 2015 he worked on upwork.com the most. By the end of that year, he opened an account on fiverr.com. He was not active in fiverr. But after a couple of years Mustafizur realised that fiverr is going to become a very good marketplace. Then he started to be active. Right now, he works on both upwork and fiverr.com.
The Most Challenging Aspects for a Freelancer
Being a full-time freelancer, Mustafizur Rahman faces some challenges too. He says, 'The freelancing market is one of the most competitive markets in the world. There are freelancers everywhere in the world. And every one of them is sharpening their skills to attract more clients. So, it is always tough to keep myself updated and skilled according to market requirements. The second thing is timing. It was way more challenging when I was a student. I had to manage my studies, time for my family and obviously time for freelancing. When I had to work in my client's time zone, I couldn't match the Bangladesh time zone.
Advices for Newbies
Mustafizur Rahman mostly emphasizes on bidding. He says, 'most of the freelancers mistake while they are bidding with the price. They usually think they bid very low prices. They think they are new to the freelance market and they need to bid at a low price. That is where they make mistakes. A regular client knows what is the price of a particular service. When he notices low bidding, he definitely thinks that the low bidding freelancer lacks skills. So for bidding a freelancer needs to research the market and gather knowledge of other intermediate and top mid-level freelancers bidding. This is called professionalism. While you are working freely professionalism is a must.
How to Keep the Clients Happy
Mustafizur Rahman shares 3 most important ideas to keep the clients happy. He says, 'clients love to deal with responsive freelancers. So, try to be responsive as much as possible. If you are outside home use mobile data to keep in touch with your clients. Secondly you have to deliver your projects by time. If you miss your deadline you can almost be sure your client is not going to hire you in future. Unlike Bangladesh, time in the first world is too valuable. Thirdly, please your client with your hospitality. If your client hires you for a job. Do that job and try to do more for him then he told you to. If you give him some bonus then he will be very happy with it. Heal sure to hire you for his next project and refer you to others.
Md Mustafizur Rahman has now become one of the well-known successful freelancers in Bangladesh. He is happy with his career but now he wants to make others happy. Mustafizur is concerned about the women population of Bangladesh since most of them have the opportunity to get employment. He now wants to train them to be self-reliant. Mustafizur Rahman is optimistic to achieve his greater goals in near future.