Milon Hawlader is a successful freelancer. He entered the freelancing market as a student with little savings and a lot of courage. He has not only ensured his own success; he has provided employment to 26 more unemployed youths. With them he has set up a freelancing agency. He is now the proprietor of an agency. His agency is currently working on image editing and print design worldwide.
The Beginning of the Journey
Milon started in 2016. Then he did some freelancing work for his friend. At that time, he thought that if he could work for others, he would be able to do the work by himself. With that confidence he decided to buy a computer. But he could not afford to buy a computer then. Milon's mother had a small savings at the local post office. Milon Hawlader then asks his mother to give him the savings. But his parents were not willing to take any risks. After much deliberation, his mother finally agreed to give him the money. And then Milon bought a small notebook with 26,000 taka. At that time, it was impossible for him to buy a high configuration computer. Milon started his journey with very small capital.
Milon Hawlader's Work
Milon Haldar mainly works with image editing and print design. Although in the beginning, he worked in web designing and data analysis, at the end of his first year he learned graphics design. He then worked with Adobe Photoshop and Adobe Illustrator. He and his agency are currently working on graphics designing in Upwork and Fiber.com. And their work demands are increasing day by day.
Why Freelancing to Choose
Milon has been involved with freelancing since he was a student. Freelancing was the first step of his uprising and it involves many of his memories. Milon Hawlader said, 'I love freelancing and so I like this job very much. Moreover, I can easily earn money by doing this job and that's why I consider freelancing to be my first choice not only emotionally but also practically. The amount of freedom you get from freelancing is unparalleled.'
Adverse Path but Goals Determined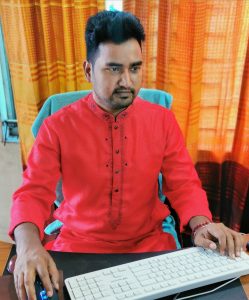 Milon said, 'It was very difficult to get a job when I started freelancing. A year after I started working, one day, my older brother told me that I had wasted a lot of money and that the result was zero. I had nothing to reply to then. Really, the result was zero. But I firmly believed that one day time would change. And just a month later I got a small five-dollar editing job. The client was very happy with my work and he gave me another job for ten dollars. In this way the number of my clients gradually increased and I never had to look back. '
Milon's Inspirations
Milon's friend who gave him the job was Milon's inspiration in the beginning. Seeing him, Milon was inspired to step into the world of freelancing. Moreover, the dynamics of freelancing work and the idea of ​​one's own independence have made him interested in this work. In addition, the amount of money one could earn in freelancing has encouraged him in this work.
Marketplace and Work Area
Milon is currently working with his graphic designing agency on Upwork and Fiverr. Initially he worked in web development. Later he changed his area of ​​work. He is currently involved in image editing and print graphics basically.
Work Experience Outside Freelancing
Milon said he has no work experience other than freelancing. He never had applied for any job in the local job market. He started freelancing when he was in his second year of honors and for this reason he never needed to apply for a job.
Adapting with the Dynamic Market
We all have to improve ourselves over time and the freelancing industry changes very fast, the market demand changes at the same rate. And so adapting to the market is a big challenge. There are also risks. Milon said that he is not completely updated to market demand for now but he is trying and hopes he will be able to overcome the problem soon.
Learnings of Freelancing
Freelancing is a constantly evolving competitive market. There is a lot to learn from this in real life. Milon said, 'Freelancing has taught me that my dreams have no limits and if I work hard enough, all my dreams will come true. Besides, my communication skills have multiplied through freelancing. Freelancing has inspired me to help others, to make others self-reliant.'
Advice to Keep Clients Happy
It is very important to keep the client satisfied in the competitive market of freelancing. In this case, Milon Hawlader first emphasized on increasing communication skills. He said, 'To gain the trust of the client, your communication skills must be of the highest quality.
Secondly, he advised to be careful in case of project submission and to verify the submission repeatedly.
Third, he said, 'Being able to finish work before the deadline will increase your acceptance to the client. Many times newcomers are not aware of this but time is very important. Only those who understand the value of time in the field of career improve their career.'
Advice for Beginners
Newcomers to the freelancing market have very little patience. This is true for both learning the skill and getting the job. Milon urges newcomers to improve their work skills. He says, 'If there is skill to do the work and maximum effort, success will come no matter how bad the luck is. Success may come too late, but don't give up.'
Goals of Milon Hawlader and The Future
Milon said his first and foremost goal is to make his family and colleagues happy. 'I am working to make my family happy and if I can keep my colleagues happy, they can make their families happy too," he said. 'I hope I and my colleagues can go a long way together, we have that ability. I hope my agency will grow day by day and I will create more jobs.'
Milon Hawlader is a shining example of success which can be achieved by working patiently with determination. From a very small stage he has gradually come to this place today. But there is not a speck of arrogance in him. Today's freelancers and entrepreneurs have a lot to learn from this humble man.