Md. Bulbul Ahmed is a successful freelancer. With his determination and struggle, he has achieved his desired place and recognition of all. He is now successfully working in different marketplaces on the web and with his struggling past days he can be an ideal example for determination to many. Today we are talking to him and he will share his valuable views and suggestions with us. 
The Start
Basically, it was in 2015. That time Bulbul Ahmed completed a course in graphic design. It was a 6-month course and after that he has practiced it in different marketplaces for almost a year. 'At the very beginning I started working in upwork.com in 2016. I didn't know how to receive tasks and what was the payment method from clients. But With the grace of almighty, I got a project task to complete. That was an appointment for 5 dollars and after completing it I got 2 dollars as bonus. Getting a 2-dollar bonus at the first work was such a big achievement for me. Maybe it's nothing for the present situation but I will never forget that bonus ever', he says. His journey with upwork.com was started basically from 2016 and in fiber.com it was 2018.  
What he Does
Bulbul Ahmed works in the graphic design arena. At present, among different parts of graphic design, he specializes in photo editing and retouching. He has designed logos for a lot of companies. Beside logo designing he designs visiting cards, printed items. He says, 'Now I don't design logos like before. I do almost all kinds of photo editing including real estate photo editing, lifestyle or wedding photographs or various product photography. Nowadays product photography edits are trending since the e-commerce market has grown'.
What Skills are Needed to be a Freelancer in this Category
If one wants to be a freelancer, he must have skills of graphic design software. If someone lacks expertise in these tools, he may require to search it online in google or youtube. It will be more time consuming. Bulbul Ahmed says, 'I use Adobe Photoshop and Adobe Illustrator. These two are the basic important software. English speaking skill is also required. It doesn't require a high level of proficiency in language; you just need to be able to read and write basic English. You also need to be communicative. And basic computer skills too. And you must be proficient in your work category'.
Why Freelancing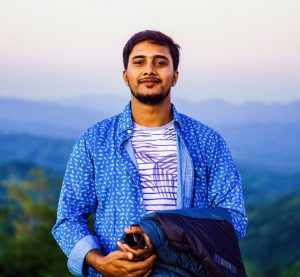 From the word freelancing we get to know that it's related to freedom; work freedom. Freelancing is an independent profession without being subordinate to a company or a person, using your own skills when you provide service and earn money. It can be offline or online. 'Being a freelancer, I am happy that I can spend more time with family which I wouldn't be able to if I was a job holder. This advantage of freelancing attracted me much and I'm happy with it', Bulbul expresses.
How Hard was his Journey
Starting my journey wasn't a very good start. During my graphic designing course, I was a student at Daffodil International University. Beside academic classes, I had to join graphics designing classes. At noon I did go to attend Graphic design classes and then evenings at University', Bulbul shares. He also tells us that after the course he was appointed for a job. It was a full-time job and after that, he also had to attend classes till night at nine. Coming back home he used to practice till midnight. But he never lost hope and was determined.
Bulbul's Inspiration
Obviously, there is always someone who inspires others to work. And Bulbul Ahmed was very much inspired by his wife. He got married at the beginning of his graduation. So, he tried to earn an income as part-time besides my studies. That's why he started graphic design course. His wife inspired him a lot to learn from that course. Before working in UpWork, Bulbul used to work in microstock sites. He says, 'In those sites, I used to submit my designs and wait for approval. If approved and got sold, I earned money. Watching my works on those sites my wife suggested to work in UpWork and with her suggestion, I started working in UpWork. That is how now I am here.'
Marketplaces Bulbul is Working in
'Basically, I work in Upwork or Fiber.com. In addition, I work in freelancer.com, people per hour, 99.com. But since I have already made a good position and a rich profile in Upwork and fiber, these two are my prominent work places', Bulbul says.
3 Tips to Keep the Client Happy
Bulbul Ahmed shared with us his three valuable ideas for clients. He says, 'With years of experience I can say, a freelancer needs to be very responsive and communicative. Clients do love to get instant replies.
Secondly, a freelancer shall always keep on providing updates to the client on how much has the project progressed. It will create a positive image of you. And sometimes, there may be some little mistakes made by you in the project; or the client may have forgot to mention it in the project, that time it can be solved while updating information to the client. 
Thirdly, A freelancer needs to achieve trust of a client. sometimes, you can ask him how he is, you may show you care for him personally'.
Tips for Newbies?
We wanted to have suggestions regarding newbies in this field and Bulbul shared his ideas with us. 
'The first is that you have to practice a lot.
Secondly, try to stay online in the marketplace and respond to clients as quickly as possible. For this you need to be fluent and skilled in communication. 
Thirdly, never lose hope. Never be sad seeing others' proficiency or skills. If you are determined and hardworking, there's no way you can't be successful'.
Md. Bulbul Ahmed is now an inspiration for those who are struggling in student life. He has now proved that despite being busy if anyone is determined enough, he can achieve success at the end.