He is a bright star in the freelancing arena. A decade's incessant struggle made him reach this position. We are talking about Suman Saha who is devoted to freelancing with the dream of being self-reliant. Presently he is serving as a Software Release Manager at a company. Nonetheless, despite having such tremendous success he has a thirst for doing more. He has a dream to contribute to the country's IT sector by producing more dexterous people.
When and How was the Outset
There was a job fair at Bangladesh's computer software companies in 2010. There he managed to work in a company as a novice. He says, "I got familiar with freelancing at the end of 2010 through some of my colleagues. I was then newly involved in a job after completing graduation. Besides, I read some articles on freelancing at different daily newspapers and the web. Being curious I created my accounts in Odesk and Elance which are combined today, named Upwork. But I failed to secure any job in the beginning, and got bit frustrated. However, I didn't quit. I was like a spider!" 
He didn't let frustration win over him. He further says, "Then I realized how much lacking I have or where to improve! So aside from the job I emphasized skill-building. I decided to take a break to prepare myself. Then I got back to the freelancing marketplace in 2012. I built my profiles anew, began to bid, and luckily got a project someday. Then within a few days, I got another one. 2013 was the turning point of my career. I could impress a client and he began to provide jobs continuously. Still, I'm working with him!"
Saha's Expertise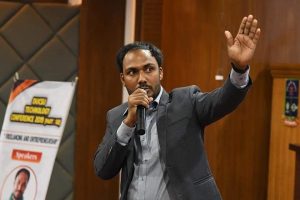 Suman Saha is an expert in mobile and web development. Also, he specializes in quality assurance. He says, "I'm involved in some mobile app development projects. An application requires updates, new features. I work on its test run as well as quality maintenance. Basically, I specialize in automation software." 
Skill is a Must
Skillful persons are well evaluated in freelancing. Suman is working with his niche for many years. He says, "Being a student of CSE it was not problematic for me to adapt to this field. Those who want to work in this category must acquire programming skills, should be knowledgeable. And look, while I was in university skills like Java, C++, or Objective C were popular that I learned. But now Swift and Kotlin are widely used in apps development. So you must prioritize keeping pace with trendy things, alright! You can adapt to any IT category like web design, web development, or app development securing basics of programming." 
Why Freelancing
Humans love freedom and comfort. If it is managed well in the profession they just thank their God. Let us know what Mr. Saha says.
"I suffered a lot from Dhaka city's jam. Even managing leave in advance was very challenging. After knowing about freelancing thoroughly I didn't hesitate to say goodbye to that life. I fell in love with freelancing due to its flexibility. You are here free form all the disgusting things that are common in a typical full-time job. As a freelancer, you easily set up your own routine to fulfill a client's commitment. You can enjoy enough freedom. These are the advantages of outsourcing." 
The Early Days
We expressed our curiosity to know about his starting days. These are the most challenging and most beautiful days to remember for a freelancer.
He says, "In the beginning, I had to face various problems. The biggest problem was the internet speed. Moreover, I couldn't go out of Dhaka in fear of losing the internet and delay in project delivery. Plus I suffered from load-shedding a lot! But days are changed. Now the internet connectivity is available throughout the country. Else, the payment gateway was not structured at that time. But now things are quite easier!"
Suman's Inspirations
"Inspired by my wife, I returned to freelancing in 2012. She was involved in outsourcing at that time. Apart from that, I used to read articles where stories are covered on successful freelancers. They inspired me to a large extend. Plus depending on my previous knowledge I began to believe that I can succeed too! Now I'm working at Upwork. I have some permanent clients. Besides, I'm involved in some part-time jobs there."
3 Tips to Satisfy Your Clients
Suman is serving in the world's largest marketplace for almost a decade, enriched in various project collaborations. He gained a proper understanding of clients' demands. So we expected some exclusive tips from him and he met our thirst. 
"There mustn't be any communication gap in dealing with clients. You must understand their requirements first and give feedback regularly. Then you should fulfill the commitments with care." 
He says, "One more thing, you should not miss the deadlines. If there is anything to ask or any problem arises, inform them immediately. Also, be honest with your job. During a project, clients may share some crucial information. Keep their privacy intact. Moreover, you should have patience, dedication as well as hard-working mentality. Clients do expect these exclusively. If you can maintain these, they will surely be impressed." 
Tips for the Newbie
"The newbie people shouldn't hurry to start earning. They must have basic computer skills along with a good command in English. In the beginning, I also couldn't secure any job. But I didn't lose hope for a moment, rather concentrated more on skill development."
He additionally says, "They should develop a mentality to learn newer things. The ability to research is a must. One more thing, they mustn't forget that they will be evaluated by their skills, not by university certificates. So getting skilled before entering a marketplace will be wise."
When inspired people are blessed with a proper guideline, they succeed. They also become a great source of inspiration as well as learning. Suman Saha is one of them. He was patient enough, struggled a lot, and got his reward finally.