Sushanto Kumar Chowdhury is a real-life example of the saying that 'Man is as big as his dream'. From an ordinary student in Bangladesh, he has today become the chief executive of an international agency in the United States. Patience, passion, skill and extraordinary decision-making ability made his dream true and has brought him to this place today.
Sushanto Kumar's Path
In 2015, Sushanto Kumar first heard of freelancing in college programs. He came to Khulna in 2016 for graduation. Then he decided to go against his family's will and become a freelancer. As an alternative, he was looking for tuition or any other source of income. But almost nothing was found. At the end of 2016, He was unable to continue his studies. He was then studying at a private university and it was impossible for him to afford the tuition fees there. From then on, he started thinking about freelancing but he had no clear idea about freelancing. In early 2016, Sushanto Kumar got a research project from Facebook and started working on it. He finished the project there a few weeks later and has been building his career ever since. He dug more on freelancing and had found Upwork, freelancer.com, PPC and some other marketplaces. On March 15 of that year, he got his first freelancing job at Upwork.
Sushanto Kumar's Work
Sushanto Kumar's work is a bit different from other freelancers. He and his team work in almost all areas of freelancing. He started his freelance career as an Internet Research and as Lead Generation Specialist. Then in April 2016, he started working full time in an American company called 'Vision Venture'. Towards the end of that year he was promoted to head of the department in his department. In Upwork, on the other hand, he started an agency called 'Freelancers Desk'. Freelancers Desk currently deals with Web Development, Mobile Application Development, UI & UX Design, Internet Research, Lead Generation, Data Entry Services. In 2019, he registered his company 'Backspace Global LLC' in Wyoming, USA. Through this company he serves all his clients directly. 'Currently I don't work on my own', he said. 'My team handles all kinds of work. I'm really looking forward to moving my business forward and managing my clients. '
Qualifications and Skills for Freelancing
Sushanto Kumar said, 'It is very important to be proficient in internet research and lead generation. You need to find the right information and detailed data and research from the internet according to the needs of the client. If you have enough knowledge about the IT sector then it will help you to get long term jobs. As a computer science student, I studied programming, web development, mobile application development, UI and UX. I understand design issues according to the needs of the client and through this my business benefits. Therefore, in order to achieve the goals of the business, it is possible to improve as much as one knows deeply about one's work'
Why Freelancing
Sushanto Kumar Chowdhury likes freedom the most when it comes to freelancing. 'I would rather talk about freedom than any other benefit of freelancing', he said. In freelancing I can organize my time and profession as I wish. Moreover, through this I get the opportunity to work independently in the international market. Through freelancing I have been able to open my own business where I have created employment for twenty more people.
Adverse Path but Patience is the Key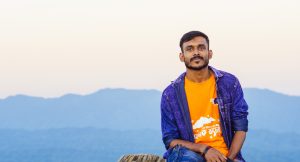 Sushanto Kumar Chowdhury's career started in a hostile environment. Paying the tuition fees was a big challenge for him. He did not know any freelancer who would show him the way in this market. And at the beginning of the freelancing career, there were more freelancers than clients in the market. In his early days, it was hard to earn very little even after working 15 to 16 hours a day. But Sushanto Kumar has always focused on improving his skills and has reached this place today.
Sushanto Kumar's Inspiration
Sushanto Kumar says, 'To be honest I did not know any of the freelancers which is why I was not inspired by any freelancer. At that time, Google and YouTube gave me the opportunity to gain knowledge. Every day I read articles and watched videos. This is how I came to know the benefits of freelancing and these are what inspired me later.
Sushanto Kumar's Work and Workplace
Sushanto Kumar started his work in Upwork. But as his acquaintance with clients grew from 2016 onwards, he began to find work through references in LinkedIn and clients within his boundaries. Most of his long-term clients go beyond the conventional freelancing market to hire him. By expanding the scope of his work and gaining the trust of clients, he has been able to do even better than conventional freelancers.
Sushanto Kumar's Advice to Satisfy Clients
Sushanto Kumar gives three important tips on keeping clients happy. 'Professionalism is the most important thing in working,' he said. 'You need to earn the trust of your clients through professionalism, honesty and communication skills'.
He adds, 'Communication skills are very important in freelancing. Even if the project budget is low, you still need to communicate with the client in time. Communication and punctuality cannot be neglected. You need to keep in touch with the client even after the project is over. Once I got a job for only five dollars from a client and after contacting him with proper care, I got a job for twenty thousand dollars.
Third, you need to respect deadlines and keep the client updated regularly so that he can give you feedback.'
Sushanto's Advice for Newcomers
Sushanto emphasizes on skills development for newcomers to the freelancing sector. He says, 'You have to be skilled and interested enough before coming to the marketplace. If you do not have enough interest, you will not be happy with the amount of money you earn. There is no end to learning and you have to hone your skills regularly in this competitive market. Always have to learn new things. And if you want to improve as a freelancer, you have to go out of the marketplace and brand yourself and your organization. 
Sushanto Kumar Chowdhury is a unique example of success and improvement. He has not only improved his career but also created employment for 20 people and has brightened the image of the country by working with a reputation in the international market.