Subir Sen is a well known and successful freelancer in Bangladesh. He has been working for over 8 years and now he and his team is continuously working in the international market. Having this incredible reputation was not made by one day. He and his team worked day and night and we learnt his story from his own words.
The Beginning of the Journey
It was Subir Sen's honours 1st year at University. That time he learnt about freelancing with the help of a senior from his area. After learning for a while he created a profile on odesk. Luckily, on the very first day he got a job through odesk. It was a ten dollar project. Subir was very much happy with it. Subir says, 'Then I realised that I should start my career with this and it was in 2012. Yes 2012 was my start'.
What Subir does
Subir is a local SEO specialist. Since 2012 he has been working on Citation Building for local SEO. He had already done a lot of projects successfully at Local Citation and SEO by working for companies from USA, UK, Canada, Australia & many other international organisations and agencies through Upwork and Fiverr.
Why Freelancing?
Subir says, 'From my early childhood, I used to think that if I worked, I would work in the army just like my father. Otherwise, I would not work in any other job. But when I learned about freelancing and I realised that they have more freedom than any other job. And even I can work from anywhere around the globe. So, I did continue freelancing. Being a freelancer now I am on my own and can manage my timing and project as I wish. It's too flexible.'
How Hard was the Journey?
The beginning was difficult for Subir. He was not very much attentive at his studies. Nor was he serious. His family was worried about him and his career. So, they never supported Subir's will to become a freelancer. Since tension was rising up between Subir and his family, at one point he got angry with the family, and promised to do something on his own.
Then he stopped receiving any kind of pocket money from the family. It was a big challenge for him. Because every month he needed money for his education and accommodation in Dhaka city. That time he didn't own a laptop, also learning resources were not very much available. So it was too hard to work without any kind of device of my own. 'Those days were full of hardship and struggles', Subir says.
Inspirations that made Subir Sen Successful
Subir had inspirations and valuable suggestions from Mohammed Arshad Ali Sarkar. Mohammed Arshad Ali helped Subir Sen to learn and acquire required skills to work in the era of freelancing. Still these days, he is always supervising and giving suggestions to help Subir in order to progress further more and improve in the freelancing market.
Marketplaces Subir Sen is Working in
In 2012 Subir started his journey in Odesk. Then Odesk merged up as upwork.com. So had to change his marketplace. Since, he is a SEO specialist he has also created an account on fiverr.com. So, now basically he works in these two marketplaces for search engine optimization and citation. 
Subir's Big Break into Freelancing
Subir says, 'At the beginning of 2013, I was introduced to Md. Masudur Rahman. He favoured me a lot. He suggested building up a team to utilise higher opportunities. It was a big break into my freelancing career. And after that I was progressing to a whole new level'.
How Subir Keeps Developing his Skills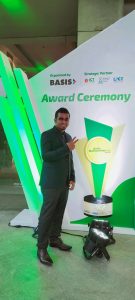 Subir Always loves to learn. And it is an advantage in his career. Without learning and developing skills with the time, no one can stand in the freelancing market. So Subir keeps up. He always gets updates about the market and new technologies. When Google updates an algorithm, he needs to learn all terms and conditions for SEO. It improves his quality of work and to ease search engine optimisation.
The Worst Part about Being a Freelancer
Freelancing is something different than traditional jobs. And it has some disadvantages as well. Subir says, 'A freelancer has to work at night and sit on a chair for a long time. It is too unhealthy. And being home freelancers do not have to workout or do physical work, So many people face back pain and other health issues.'
3 Tips to Keep the Client Happy
Keeping the clients happy is the key to make sustainable growth and progress in the market. It is the customer who decides freelancers' fate. On this matter, Subir says, 'Always try to do your best for your client. Quality is a must. So maintain your highest quality. Secondly, Deliver on-time. Delivery timing is very important. Deliver the project before the deadline. You can also add a work report with your project. It will add an extra positive point in your image.
Thirdly, stay connected with the client. Keep communication with the client even after the project is done. it will increase your opportunity to get more new projects.'
Tips for Newbies
For the newcomers in this market, Subir Sen gives us some suggestions. He says, 'First of all, acquire and learn your skills properly. Learn to work on one area in a good way, then start freelancing.
One more thing to note! The people who have succeeded, have not succeeded from day one. So have patience. If you stick with it, success will come for sure. Be industrious, be optimistic, be productive – that's all you need.
Subir Sen is a self dependent entrepreneur in the area of freelancing. He is never satisfied with all he has got, nor he is greedily in a hurry. Subir depicts his freelancing career in a very easy way. It's a must for every freelancer to have patience and meet the life challenges easily. Subir Sen can be an inspiration to them.