Are you an experienced freelancer with strong knowledge of your field of work? Did you ever feel like passing on your experience and expertise to the new and upcoming freelancer? Are a firm believer that 'Growing Together' is the best way to grow a career in freelancing? Well, now you have the opportunity to do all the things you wanted to do to help our community and get paid while doing it. Not bad, right?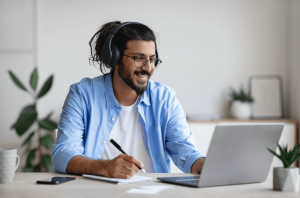 Here at freelancers.gov.bd we are looking for experienced freelancers to create online courses and share their knowledge and expertise for all new freelancers of Bangladesh through our Tutorial Hub. This upcoming digital and interactive platform will be just like Udemy or Skillshare where course contributors can create complete courses and anyone can sign up and purchase these courses.
Our target here is to enable the top freelancers and online workers of our country to share their knowledge and expertise so that new and upcoming freelancers can learn from the best. If they get to learn from the best, they will likely have a better chance of being successful in today's hyper-competitive global freelancing market.
In order to ensure that we are choosing the right contributor to prepare the tutorials we have come up with following selection criterias –
Must have minimum $20,000 worth of verifiable online earnings in last 12 months
Must have average rating of 4.5 (out of 5) from the clients in last 12 months
Must be involved in the skill specific industry for at least 2 years
Must have some experiences in creating course curriculum/materials
Must be aware of industry specific updates/changes
We understand that creating tutorials can require a lot of time and effort. And we intend to recognize your hard work by offering a handsome compensation package based on the complexity and extent of contribution from your end. Currently we are offering these 3 options-
Option 1 = One off payment of upto 500000 BDT
Option 2 = Revenue share of upto 30% of net profit from course sales
Option 3 = Option 1 + Option 2 (only available to exceptional contributors)
Here are some more perks of creating tutorials for freelancers.gov.bd
Reach out hundreds of thousands of potential students at a national level
All courses will be have an approval and cerise of NSDA (National Skill Development Authority)
Exposure of your personal brand at a national level
Get feedback from a larger audience to make even higher quality learning material
Be a true contributor of our country's economy by enriching skill level of youth
We expect that all tutorials created must be comprehensive, meaning it must cover a particular skill end-to-end. Each tutorial will also need a set of questionnaires from which a randomized exam (with high level of difficulty) can be created. Depending on the skill there needs to be some form of live project ideas as part of the assessment process.
You can choose to shoot the tutorial at your location or can come to our studio and enjoy the latest creative tools for the best production quality.
If all these sound good to you then please us at [email protected] and express your interest. Thank you!