Are you still unproductive despite having an academic background? Are you socially under pressure due to not having a job? Then you should know how to translate your academic knowledge and move into freelance. You can learn this from the story of Sandipan Paul who has literally become 'zero to hero' in his society. To be more exact, he has set up an example for many. He is not only a prominent freelancer, he is the founder of two private companies too. That's the reason we are here to tell you about his struggle and success. Indeed, his early life represents the common miserable condition of many Bangladeshi youths. At the same time, his present status can be a great source of inspiration. 
Back to the Outset
Mr. Sandipan was a common face of the unemployed, non-productive section. He had to build himself. Let us listen to him. 
"To be honest, I wasn't good at English, had not any substantial computer skills also. I was only 20. Nonetheless, I opened an account in 2011 at Odesk whimsically. Perhaps you know Upwork was previously known as Odesk. Anyway, but I got stumbled at the very begging due to my lacking. I failed to satisfy my first client. Then I regretted and made a promise to myself that before bidding I'll be well prepared. Afterward, in 2014 I revived and began to work in Upwork with an exclusive skill." 
Mr. Sandipan is a chartered accountant. He studied at ACCA. He is proficient in book-keeping, CFO works, and financial analysis. So we were curious to know how he translated his academic knowledge into a freelance business. 
He says, "Securing chartered accountant certificate I joined an audit firm. In the beginning, I worked for free. I mean it was the contract. But later on, the firm failed to pay my salary, suddenly got closed. Then after some months of depression, luckily I opened an account at LinkedIn. Thus I got the idea of freelancing. Earlier I couldn't even imagine that it is also possible to translate academic background or previous job experience. Here at Upwork, I do the same thing I used to perform for my x-firm."
He adds, "This is basically a knowledge-based sector. You have to apply your knowledge that you earned academically or by self-endeavor. Though a client loves to see his assigned freelancer has at least a college degree."
Why Freelancing & How was the Struggle
Our question was why he opted for freelance whereas he could try another part-time or full-time. Thus we got this reply that shows the sheer reality of Bangladesh.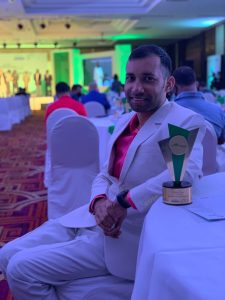 "You know in our country most of the private jobs are not financially secure. I had seen many of my university seniors, so I didn't want to risk my life anymore. Moreover, my family was dependent on me. Then I started my adventure of freelancing. True, at the beginning I had to work very hard. As I said earlier I made a childish mistake, wasn't prepared enough. Then I took it as a challenge, learned the necessary IT skills, and developed my English. Sometimes I wasn't solvent enough to buy mega bites. Luckily one of my neighbors permitted me to use their wifi connection. Overall, I left no stone unturned, never hesitated to learn even from juniors. Family needs were deeply in my mind. Good thing is, my hard-work turned into an addiction. I started enjoying tasks as well as the company of my clientele from different parts of the world." 
Inspirer also Needs Inspiration
Sandipan's mother was his biggest inspiration. We couldn't but wonder. We thought we would hear about some of the prominent professionals. But instead, he glorified the role of his mother behind this success. 
"My mother is the key person in every success of my life. Despite having a serious financial crisis she bought me a computer at that time! Whenever I fell in depression, suffered from indecision she became my light. She used to energize me at each drawback. I owe to her! I'm so proud of her!"
 

On Selecting Marketplace & Niche

Sandipan observed that many freelancers fail to choose the apt marketplace at the beginning. They get engaged in here and there and deprived of payment. It results in frustration. He says, "Many fraudulent clients are there. For example, they will ask you for 5-10 samples and sell them to other buyers! I personally know dozens of newbies fell victim of the cheat. 

He further says, "Just void of a guideline they lose their zeal. I suggest them to choose eminent marketplaces like Upwork, Toptal, iwriter, Evanto, Fiverr, People-per-hour, etc. Likewise, they must ensure whether the payment of a certain job is verified or not." 

Else, he focuses on selecting a proper niche. He says, "You must not start working unless you select your niche. You see, I do specialize in accounting related jobs. I dare not to bid on projects that are beyond my category. Only rushing after money doesn't make money. However, before you go for niche selection you should know yourself. I mean, a person who loves to write shouldn't go for web designing, okay! Knowing thyself is a very significant thing. And even if you want to be a freelance writer, you should choose whether you want to specialize in grant writing or legal writing or fiction & short stories writing." 
Especial Tips for Managing Clients
Mr. Sandipan Paul finally talked about this. He thinks that dealing with clients is as interesting as challenging. Following our request, he gave some useful tips.
"Your communication skill plays a very important role. Merely niche or sample works won't suffice. Clients do expect regular updates. Your attitude is the key to win a client's heart. Remember, they will measure your mentality towards a specific job! And you mustn't miss deadlines idly. You must be honest at the time of approaching through gigs or proposals. Don't brag. Ask a lot of questions in need to give your best. Each successful project will lead to another. Besides, never forget to propagate your activities & success stories through various popular social media. You might attain a good offer even outside of a marketplace! Who knows! 
He additionally says, "But please, don't come here without enough preparation. Hope you don't think about engineering without being confident in mathematics. Learn the usage of software and keep pace with updated tools to increase your productivity. Be careful of ergonomics. Be careful of health. Wish you all the best!"